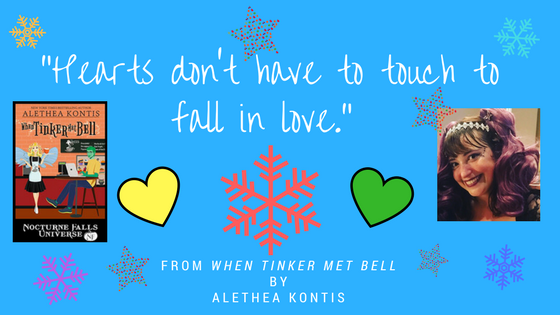 "Hearts don't have to touch to fall in love."
What simple yet extraordinarily beautiful words my fishy sister, Mermaid Princess Alethea Kontis, has written for us in her brand new book, When Tinker Met Bell. This is her second book, I believe, in the Nocturne Falls Universe, and I am 100% smitten with it. When Alethea told me I was really going to love it, I thought to myself that of course I would enjoy it. She's a great writer! Oh, but she was sooooo right. I absolutely adore this quirky, heart-squeezing book. That line I've shared above is one teeny tiny example of why. I asked Alethea if there was anything special she could share with us behind the writing of those particular words and of course, she said yes!
From Alethea…"OMG YES I remember writing that line. I remember that whole scene. I was already crying by the time I wrote "Hearts don't have to touch to fall in love," and when I did, I had to step away from the computer for a bit. Not only to process all the emotions I was feeling (and sob and blow my nose like Joan Wilder), but to consider, "Do I *really* want the major tear-jerking scene to be in Chapter Three?? At which point I realized that I loved the story so much, I didn't even care. I was going to tell it the way it needed to be told, and people were either going to love it or hate it."
I know Miss Alethea is going to generate and receive tons of love from this book. I cannot wait to share it with you all on her behalf. And so, without any further ado, I give you When Tinker Met Bell, out now!
Amazon / Barnes & Noble / iBooks / Kobo
Everybody knows that goblins and fairies can't be friends. But that never stopped Tinker and Bell.
Bellamy Merriweather Larousse isn't like the other fairies at Harmswood Academy, with her giant wings and their magical dust. "Southern Bell" works as a barista at The Hallowed Bean to help pay her tuition and remains active on the cheering squad, despite her insistence on associating with the unpopular crowd. Every day is sunny in Bellamy's world and every cloud has a silver lining. The only way to upset Bell's stalwart optimism is to threaten one of her misfit friends…or try to take one of them from her.
Unbeknownst to everyone–including him–outcast Ranulf "Tinker" Tinkerton is about to be named heir to the throne of the Goblin King, making him ruler of his fellow Lost Boys and the labyrinthine city they inhabit. Now that the time has come for Tinker to leave Harmswood behind, will he be brave enough to share his feelings for Bellamy? It's no secret that he's held a torch for her since the fourth grade, but no matter how long they've been friends, goblins will always be allergic to fairies.
Or will they?
You'll definitely be a happy reader if you pick up your very own copy of this gem. I hope you will, xoxo. Learn more about Alethea's fantastic books HERE!