We're celebrating the release of Brenda Drake's GUARDIAN OF SECRETS (Library Jumpers #2), today! Check out the teaser excerpt, and be sure to enter the giveaway via Rafflecopter below!
GUARDIAN OF SECRETS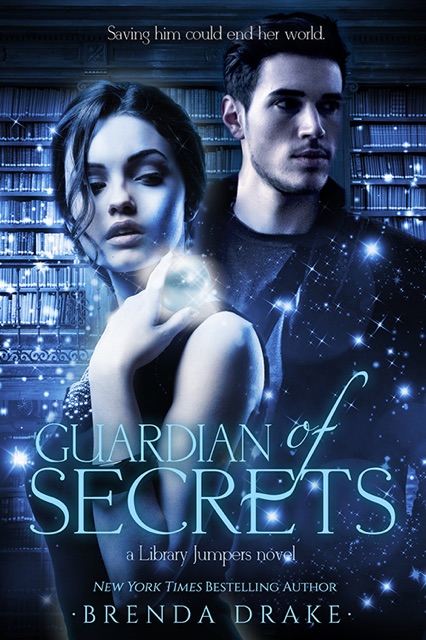 (Library Jumpers #2) by Brenda Drake Publisher: Entangled Teen Publication Date: February 7, 2017
Being a Sentinel isn't all fairytales and secret gardens. Sure, jumping through books into the world's most beautiful libraries to protect humans from mystical creatures is awesome. No one knows that better than Gia Kearns, but she could do without the part where people are always trying to kill her. Oh, and the fact that Pop and her had to move away from her friends and life as she knew it. And if that isn't enough, her boyfriend, Arik, is acting strangely. Like, maybe she should be calling him Dzex,dz since he's so into another girl. But she doesn't have time to be mad or even jealous, because someone has to save the world from the upcoming apocalypse, and it looks like that's going to be Gia. Maybe. If she survives.
Thief of Lies (Library Jumpers #1):
Goodreads | Amazon | Barnes & Noble
Guardian of Secrets (Library Jumpers #2):
Goodreads | Amazon | Barnes & Noble | Kobo | iTunes
Excerpt from GUARDIAN OF SECRETS
She did a U-turn and drove off. I sprinted to the area where I spotted the lightning. A shadowed figure sat on a white bench near the water. Another flash of light kissed the sky and illuminated Nick. Since discovering he was a wizard, Nick struggled with his new magic. And he wascareless. Anyone could spot him out here. How would he explain it to someone who was human and not from the Mystik realm? I couldn't imagine how it felt to have that much power. Unlike him, I was a Sentinel. I had little magic and relied on my battle training to best wizards and other-world creatures. He only needed to shock or electrocute his adversaries.

"What exactly are you doing?" I asked, approaching. He almost fell off the bench.

"Shit, Gia. Don't sneak up on a person like that."

"Seriously, Nick? What are you doing? Someone might see you, and then we'd be discovered."

"Just leave me alone."

"I'm not going to just leave you alone." I sat down on the bench beside him. A light breeze swept loose strands of my hair across my face. The briny smell of the ocean filled my nose.

"Talk to me. You're my best friend, Nick. I'm here for you."

He formed an electric charge on his palm. I created my pink globe and tossed it on his hand, snuffing out the charge. He made another electric ball and I cast another globe at it.

"Quit doing that."

"You stop it."

"I get it. Your globe is badass. It can counter magic and shield people, but it makes you weak. I can do this all night and wear you out."

"You're not nice."

He buried his face in his hands. The knuckles on his right one were torn, with blood coagulating around the wounds. "I don't know what's happening to me. I can't stop myself. I know I'm being mean to Deidre, to my parents…to everyone."

"You haven't been that mean to me, yet. That has to say something. I'm the most annoying one of the bunch."

He snorted.

"Did you just snort?"

"No." He looked startled. "It was a sneeze."

"I think you snorted."

His face brightened. "I know what you're trying to do. And it's working."

"I'm not trying to do anything. That was a full-on snort." I wrapped my arm over his back and watched the water lap against the retaining wall in front of us. "I know you can't see a therapist for this, 'cause what would you say? That you just found out you're the son of the most evil wizard of the Mystik world and the curers recently released your magic?"

He gave me a half smile. "Yeah, that might not go over too well."

"Or maybe you could. They'd think you were delusional, and you'd score some drugs."

"Drugs make me nauseous." He stared at his hands, and I stared at the water, searching for the right words to say.

"This has to be tough for you. I get it. I've been there. It'll take time to adjust. How about I be your counselor? Anytime you feel anxious or angry, you call me and we'll punch some bags or whatever. It always helps me to relax. Plus, my services are cheap."

"Violence would make you relax." He was pleased with his retort and laughed, which was followed by another snort.
Be sure to add GUARDIAN OF SECRETS to your Goodreads to-read list, and grab your copy today!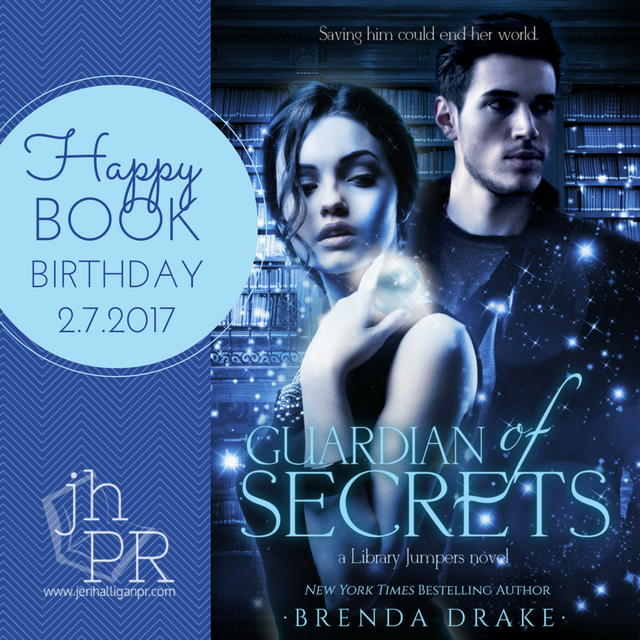 About Brenda Drake
Website | Facebook | Twitter | Goodreads | Pinterest | Instagram
Brenda Drake is a New York Times bestselling author of Thief of Lies (Library Jumpers #1), Guardian of Secrets (Library Jumpers #2), Touching Fate (Fated Series #1), and Cursing Fate (FatedSeries #2). She grew up the youngest of three children, an Air Force brat, and the continual new kid at school. She hosts workshops and contests for writers such as Pitch Wars and Pitch Madness on her blog, and holds Twitter pitch parties on the hashtag, #PitMad. When she's not writing or hanging out with her family, she haunts libraries, bookstores, and coffee shops, or reads someplace quiet and not at all exotic (much to her disappointment). Look for her upcoming novels, Thunderstruck, Seeking Fate (Fated Series #3), and Assassin of Truths (Library Jumpers #3) coming soon from Entangled Teen.
Giveaway