EVERNIGHT TEEN turns one this month and the Waterworld Mermaids are helping them celebrate during their 1st Birthday Blog Hop!  It's EVERNIGHT TEEN's birthday but you get the presents. Enter below for a chance to win a $100 iTunes gift card!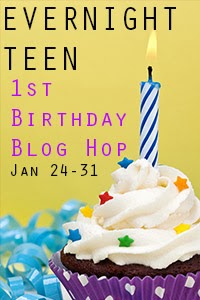 EVERNIGHT TEEN books feature fresh teen fiction that's raw, gritty and real. Whether paranormal, contemporary, sci-fi or suspense, EVERNIGHT TEEN stories are about real issues and pack a strong emotional punch. You'll find cutting edge fiction that today's young adults can relate to and will keep you turning the pages long into the night. Upper Young Adult titles, include PHOENIX: THE RISING, the first EVERNIGHT TEEN title!
Phoenix: The Rising by Bette Maybee
Every 300 years, the immortal Phoenix returns to Mono Lake to be reborn—but this time it didn't return alone.  The Nephilim are back in force, trying to keep it from being reborn so one of them can claim its immortality. But first they have to figure out who the Phoenix is—and any red-haired, green-eyed, seventeen-year-old in the area is fair game. And so, the killing begins…
Julie Mason doesn't believe all this legend crap until she falls for Eli Sullivan, whose hallucination-inducing kiss not only saves her, but makes her the Nephilim's prime target. But, it's worth the risk. Her death is inevitable…not even Eli can prevent it.  All she has to do is keep the Nephilim off Eli's trail until The Rising. Once Eli is reborn and forgets his past life, Julie's life is over, whether she's dead or not. At least that's what she thinks…
14+ for brief violence and sexuality
Phoenix: The Rising by Bette Maybee is now 25% off at Evernight Teen until January 31st!
Leave a comment about Phoenix: The Rising below for a chance to win an Evernight Teen eBook of your choice. Then follow the Rafflecopter (click here) to enter the grand prize of a $100 iTunes gift certificate.
Now be sure and Click here to follow the rest of the hop for more birthday fun and chances to win!
To Evernight Teen, big, squishy fishy birthday kisses to you from all of us girls here in the lagoon.  xoxoxoxoxoxoxoxo