I woke up in a sweat. There were video images racing through my mind, short, no sound, with words moving across the bottom, or sides or the top, and sometimes with thought bubbles – words and images capturing a feeling, an energy, a world of emotion in one quick glance, and you were like yeah, that's it.
But darn it, what was it and why do I need to know MORE?
Well, they are called GIFs, the latest craze (actually a very old craze on the Internet), but with YouTube, Tumblr, and Google+, even Facebook, is playing with 'motion-oriented' images. In the realm of social media, GIFs have leapt to the forefront of marketing, making GIFs the hot new darling of 2014.
So what does it mean to authors marketing books, or social media mavens who want to use the latest, greatest – you need to know what you're working with for one…
GIF – the definition – animated image file formats. Sounds simple enough. There are a lots of websites and easy programs to use in creating your own GIF or going with some of the existing that fit the mood you're in, or … whatever:)…see examples below…
Hopefully no-one notices how much weight you've gained over the weekend. You only ate one chocolate egg after all, right?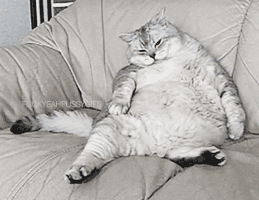 It's 5.55am, and here you are. Look how happy and relaxed you are…
 There are a  bunch of websites where you can find GIFs and use them on with favorite social media tool. But also think about the fun you could have with characters from your book if you also knew how to make your own GIFs. There are some spots on the internet that explain how with and without Photoshop…
http://www.buzzfeed.com/katienotopoulos/how-to-make-a-gif-without-photoshop
Or just Google GIFs – thousands of stuff out there to work with…
Read more at http://www.reactiongifs.com/heeeeyyy-f-you/#yR8hQyZsMy6pBvgY.99
WHEN SOMEONE YOU DESPISE WAVES AT YOU
 Or what I should be doing instead of googling GIFs for two hours, right?
Okay, I'm having way too much fun writing this post. Feel free to respond with your favorite GIF, or share ideas on ways you can add them to your social media marketing toolkit! It will grab readers' attention…