11 Dec 2013
Are you ready?  It's coming — just around the bend.  In fact, Chanukah has already passed and I barely got a chance to wish Happy Chanukah between turkey drumsticks, but I'm not missing wishing all of you — no matter the holiday — the best of the season and the happiest of new years!
So, here are a few of my favorite things — umm books — that some of you might want to share with your friends when you're gift shopping:
Candice Gilmer's novel, Mission of Christmas, , it's one of my absolute Christmas favs.  I know you'll love it! 
There's more than one way to unwrap a gift.
Erica Jones is a Scrooge, and she doesn't care who knows it. She doesn't "do" Christmas, never has, never will. For anyone who believes that everything is "merrier and brighter" during the season, she has a news flash—it's not any better. Just colder.
Andrew Hawkins has never had a bad Christmas, never understood his best friend's aversion to it. After all, it's all about family and togetherness and faith, right? Instead, the faintest twinkle of tinsel or the whiff of evergreen sends Erica into self-imposed exile to watch the latest action movie.
Not this year. This year, Andrew is on a mission to find Erica's Christmas spirit.
With him.
Even if he has to drag her, kicking and screaming.
***
Then, there is Mary Kay Andrews' Christmas Bliss: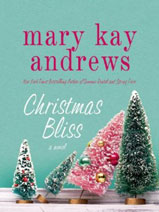 Christmas is coming, but Savannah antique dealer Weezie Foley is doubly distracted—both by her upcoming wedding to her longtime love, chef Daniel Stipanek and also by the fact that her best friend and maid-of-honor BeBe Loudermilk is due to give birth any day—and is still adamantly refusing to marry her live-in-love Harry. Readers have come to love these characters in Mary Kay Andrews' three previous Savannah novels:  Savannah Blues, Savannah Breeze, and Blue Christmas.
What could be better than a Southern Christmas in a small town?  How about a new Mary Kay Andrews Christmas story?  With familiar characters, that seem like your own best friends, Christmas Bliss celebrates Mary Kay Andrews's own favorite pastime-antiquing, weddings, and family.
***
Here's another holiday favorite by Diane Farr:  Dashing Through the Snow 
On the road to Bath, a kindhearted young man encounters a young lady in a hurry. Together they journey to an unintended destination – and share an unforgettable Christmas Eve. A Regency Christmas story.  And it's now available on audio.  It's wonderful when you can hear the author read the story — the meaning of each sentence is crystal clear and Diane has a beautiful voice, too!
***
Lena Diaz has two fabulous books out:
Undercover Twin: IT'S A CASE OF TAKEN IDENTITY 
DEA agent Nick Morgan had no choice but to break up with the love of his life, Heather Bannon. He knew that if he was seen anywhere near the gorgeous P.I., he could kiss his career goodbye. But when Heather's twin is abducted, Nick reconsiders his priorities.
As Nick leads Heather on a dangerous undercover mission to rescue her sister and topple an elusive drug lord, he knows he was wrong to end their relationship. Working side by side, Nick realizes his love for her is as strong as ever, and he'll risk his life to prove it. Having Heather pose as her twin—down to her tattoos—could be genius…or a fatal mistake
and
Ashes Ashes They All Fall Dead 
What she doesn't remember . . .
One by one the letters arrive at the FBI office in Savannah, Georgia. Inside, each bears a name–victims of a twisted crime–and the sing-song phrase . . . Ashes, ashes, they all fall dead. Special Agent Tessa James becomes obsessed with finding the killer whose victims are crying out to her for justice.
Will kill her . . .
When sexy, brilliant consultant, Matt Buchanan, is paired with Tessa to discover who's sending the "Ashes" letters, he discovers a serial arsonist is leaving nothing but murder in his wake. Inexplicably, the clues point to Tessa herself, forcing her to realize if she can't remember the forgotten years of her past, the name on the next letter will be hers.
***
If you're in the mood for a historical, Manda Collins' Why Dukes Say I Do, is a great choice:
With her whirlwind social life in London, Lady Isabella Wharton has little interest in the customs of the country. But when her godmother asks her to pay a visit to her bachelor grandson in Yorkshire, Isabella can't refuse. It behooves her to please the old dowager, since she harbors one of Isabella's most scandalous secrets. So off she goes to see the newly-titled—and notoriously rustic—Duke of Ormond…
Trevor Carey doesn't care about what goes on
behind ballroom doors. He is content with the simple life—and isn't ashamed to admit it to a society flirt like Lady Isabella. But the country air brings out a different side of Isabella—one full of longing and passion. Can her sophistication be hiding a desire for love? When a blackmailer from the city arrives to threaten Isabella, Trevor will shield her from harm—even travel to London. Can the duke tackle the ton on Isabella's behalf …and manage to keep her all to himself?
***
Alethea Kontis delivers a knockout of a fairytale themed book in Hero:
Rough-and-tumble Saturday Woodcutter thinks she's the only one of her sisters without any magic—until the day she accidentally conjures an ocean in the backyard. With her sword in tow, Saturday sets sail on a pirate ship, only to find herself kidnapped and whisked off to the top of the world. Is Saturday powerful enough to kill the mountain witch who holds her captive and save the world from sure destruction? And, as she wonders grumpily, "Did romance have to be part of the adventure?" As inEnchanted, readers will revel in the fragments of fairy tales that embellish this action-packed story of adventure and, yes, romance.
***
Carlene Love Flores has great books out, too!  Her latest, Sin's Haven is steamy and will warm you up on a cold winter night!
When Sin Pointe webmaster, Benjamin Wright, is publicly humiliated on his birthday, he knows he's never gonna be able to show his face around the guys again. But an angelic hostess who lets him sleep it off at the club seems surprisingly eager to help him out. Is his luck changing or does she just feel sorry for him?
Hazel Temple, bagel mistress by day and club hostess by night, feels horrible for inadvertently playing a part in Ben's embarrassment and vows to make it up to him—by telling him they had a sizzling hot one-night stand. Still recovering from losing her fiancé to suicide, she worries about Ben when he discovers her lie. Is she bound to hurt the men she cares about?
A Sin Pointe camping trip provides Hazel her chance to get Ben's groove back.
Will her webmaster be the one to rock her world?
***
I loved Carey Baldwin's book Hush:
Reformed bad boy Charlie "Drex" Drexler returns to his hometown of Tangleheart, Texas hoping to make peace with his dark past and make amends to those he's wronged. He's also looking to reconnect with an old flame. But Anna won't cooperate, new questions tear open old wounds and his best friend's wife and baby disappear. Can Drex and Anna mend their broken hearts while fighting for their lives and racing to bring mother and baby home safely
***
Rachel Grant also keeps the pages turning in her latest romantic suspense, Body of Evidence
And she thought facing a firing squad was bad…
When archaeologist Mara Garrett traveled to North Korea to retrieve the remains of GIs lost in combat, she never imagined she'd be arrested, convicted of spying, and sentenced to death. Her only hope is Curt Dominick, the powerful, ambitious, and infuriatingly sexy US attorney prosecuting her uncle, a former vice president of the United States.
What starts off as a rescue mission quickly morphs into a race across the Pacific. Someone is after Mara, and they'll risk everything to stop her from reaching Washington DC. With betrayal around every corner, Curt and Mara have little reason to trust each other and every reason to deny the sparks between them that blaze hotter than the Hawaiian sun. Still, desire clashes with loyalty when they discover a conspiracy that threatens not only their lives but the national security of the United States.
***
Well, that's today's list.  There are so many other great books out there — and I'll get to them eventually.  In the meantime, Enjoy!  And Happy Holidays! Merry Christmas!  and Happy New Year!